DNS Check allows you to logically group DNS records that you're checking into DNS record groups. Here are a few example grouping options:
By zone file (example.com, example.net, etc.)
By service (web servers, email servers, etc.)
By customer (ABC Widgets, Acme Corporation, etc.)
You also have the option of placing all of your DNS records into a single DNS record group.
Creating DNS Record Groups
To create a new DNS record group:
Click DNS Checks in the top navigation bar.
Click the Add DNS record group button.
Give the new DNS record group a name, and optionally a description, and nameserver to query.
A more detailed tutorial on creating DNS Records Groups, and importing DNS records is on the Share DNS Records page.
Public vs. Private DNS Records Groups
Each DNS record group has a Make publicly visible option, which, when turned on, allows anyone whom you share the DNS record group's link with to have a read-only view of it: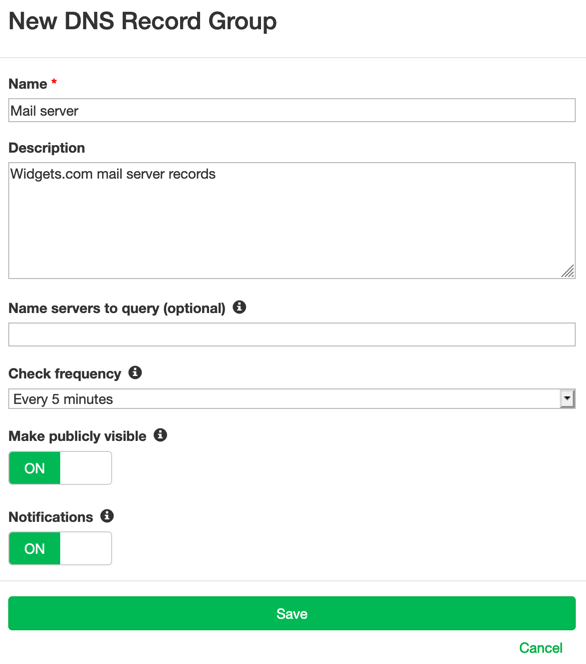 DNS record groups that have this option turned off can only be viewed when logged into your account. More details are in the Share DNS Records page.
DNS Record Groups vs. Zone Files
DNS records are traditionally grouped into zone files. A zone file is a text file that describes a DNS zone. Here's an example:
$ORIGIN example.com
@       IN      SOA     ns1.example.com.      root.example.com. (
                                              2015071101
                                              14400
                                              3600
                                              1209600
                                              86400 )
@      NS  ns1.isp.com.
@      NS  ns2.isp.com.

@      A   192.168.0.2
mail   A   192.168.0.3

@      MX  10 mail.example.com.

Each zone file represents a subset of the DNS hierarchy. For example, if you registered example.com and example.net, then you would typically have two zone files - one for each domain. Each domain's zone file would typically contain all DNS records for that domain.
DNS record groups and zone files can have a one-to-one relationship if you'd like, but they don't have to. You can group DNS records in a manner that makes the most sense for you. For example, if you have a web server that hosts multiple websites, you may wish to create a DNS record group for all DNS records that point to that web server.
---
Sign Up For a Free Account