DNS Monitoring Improvements
Happy New Year! We want to kick off 2021 by announcing some improvements to DNS Check.
1. Extended the Notification History
When troubleshooting an intermittent problem or flapping record, it's useful to see what failures occurred in the past and look for patterns. DNS Check maintains a log of the notifications sent for each monitored DNS record to support that type of troubleshooting. Each record's log can be viewed by clicking its History button.
Here's an example report: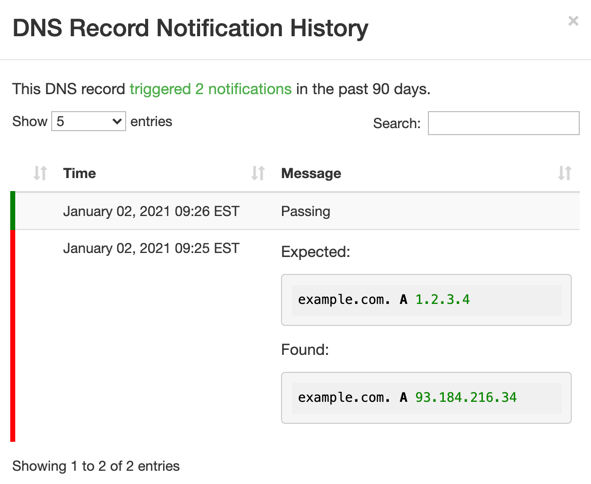 The log used to be maintained for 30 days for paid accounts, but we recently increased the retention period to 90 days.
Free accounts can also view this log, but only for the past 7 days.
The Troubleshoot DNS Records page has more details on this feature.
2. Added Support for Monitoring More DNS Records
We added four new subscription options to the checkout page to monitor up to 3,000 DNS records. Previously, the largest available package on that page had a 1,0000 DNS record limit.
We're also able to create custom packages for monitoring more than 3,000 DNS records. Get in touch with us if you'd like a custom quote.
3. Made the Zone File Importer More Robust
DNS Check offers the option of importing entire zone files for monitoring. This system worked for properly formed zone files, but some DNS hosting providers produce malformed zone files that can cause issues, like making individual records unreadable. Another common problem is omitting the zone file's $ORIGIN, making relative references like @ meaningless.
We've enhanced the zone file importer's "Autocorrect syntax errors" option to fix more types of zone file issues. The enhancement was significant enough to warrant turning the option on by default. It was off by default before.
The Monitor DNS Records page shows how to access the zone file importer.
4. Made the Check Frequency Configurable
We added the ability to customize how often DNS records are checked. Each DNS record group now has "Check frequency" settings that can be set to any of the following:
Every 5 minutes (the default)
Every hour
Paused
Previously, all DNS records were checked every 5 minutes, and there wasn't any way to pause checks.
5. Added a Status Page
Finally, we've created a status page at status.dnscheck.co. Moving forward, we'll post notices about upcoming maintenance there. If any services experience downtime, we'll also document them on the status page. Feel free to subscribe for status updates.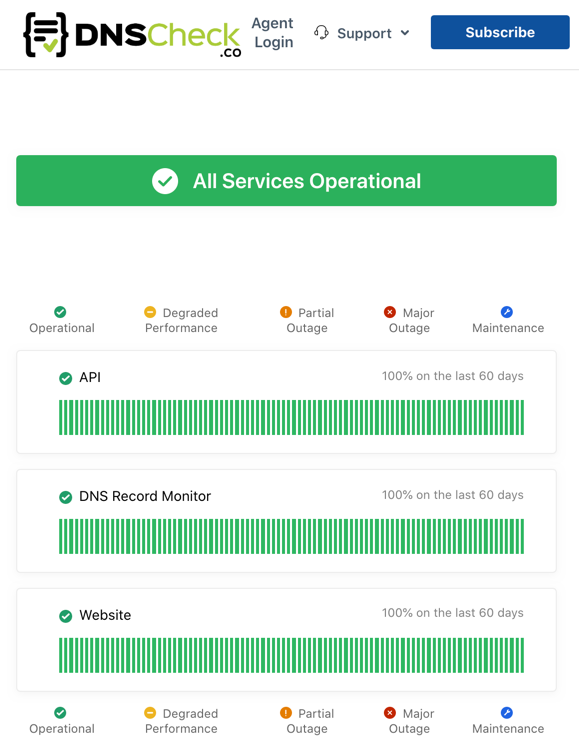 That's it for now. More improvements are coming in 2021, and we're looking forward to sharing them with you.